Juhan Tere, BC, Tallinn, 26.09.2012
At a meeting with Foreign Minister of Fiji Ratu Inoke Kubuabola in New York on Tuesday, Estonian Foreign Minister Urmas Paet expressed his satisfaction over the fact that the charges against Estonian citizen Risto Härmat, who was arrested in Fiji in May 2011, were dropped, Estonian Foreign Ministry said in a statement.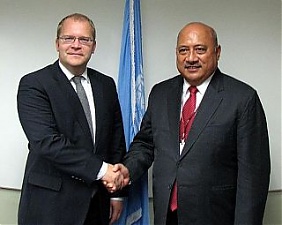 Urmas Paet and atu Inoke Kubuabola. New York, 25.09.2012. Photo: flickr.com
"Harmat's situation was very complicated because the court hearing kept being delayed and an actual discussion of the case never took place," he added.
The Fijian authorities accused Risto Harmat of treason for helping accused coup plotter Colonel Tevita Uluikakeba Mara escape the country.
According to the accusation, the Estonian citizen took Colonel Mara from Fiji to Tonga with his boat.
Foreign Minister Urmas Paet also sent a letter to his Fijian colleague a few months ago, asking him for help in resolving the Harmat case.
During their meeting, the foreign ministers also discussed co-operation in international organizations, especially in the UN.
"We hope that Fiji will support Estonia's candidature to the UN Human Rights Council during the elections taking place in November of this year," Paet noted.
The European Union is a long-time co-operation partner of Fiji. The EU has supported the development of Fiji's rural life and education system. After the coup d'état in 2006 the interim government promised that elections would be held in March of 2009. Now the Fijian interim government has promised to carry out democratic elections in 2014.
From September 25 until October 1, 2012, Paet takes part in the opening week of the 67th Session of the UN General Assembly in New York and the European Union ministers' week taking place within the framework of the opening week. Paet has bilateral meetings scheduled with the foreign ministers of Thailand, Cabo Verde, Uzbekistan, and Georgia. There are plans for Estonia to establish diplomatic ties with Burma, Yemen, and Lesotho.
Paet will also participate in a meeting that will focus on issues related to the International Criminal Court (ICC). The foreign minister will participate in a meeting of transatlantic countries as well as a meeting that will focus on the political dialogue between the USA and the European Union.
Foreign Minister Urmas Paet will participate in a roundtable taking place at Columbia University and take part in a meeting on the UN initiative R2P (responsibility to protect). He will also meet with representatives of the American Jewish Committee and give a speech at the Forum of Small States (FOSS).